Childcare and Education
Education
Elementary School Enrollment Guidebook for Foreign Parents in Sapporo
This guidebook includes information such as how children spend a day in a Japanese elementary school, things to prepare before entering school and so on.
Available in English, Japanese, Simplified Chinese, Vietnamese, and Korean. (Published in January, 2022)
Elementary School Entrance Guidance for Foreign Parents and Children

NEW
Japanese education system
The school year starts in April and ends in March of the following year. Students have a vacation of approximately one month each in summer and winter.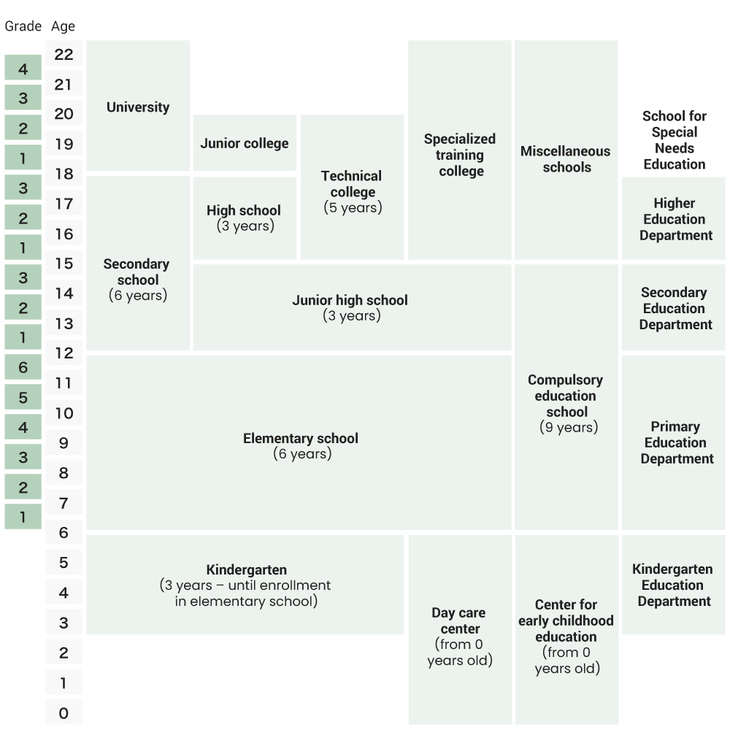 Elementary and junior high schools
Children who have reached six years of age attend elementary school from the following April. The six years of education in elementary school and the three years in junior high school (excluding secondary school) are compulsory, and there are no entrance examinations for municipal elementary and junior high schools.
In public elementary and junior high schools, tuition and textbooks are free of charge, but school-provided lunch and study materials are fee-based. Junior high schools usually have their own uniforms for students to wear.
Enrolling children in elementary and junior high schools
Procedures for starting school
If you have filed your resident registration form, a health check-up form should be sent to your home in October a year before your child begins elementary school. Please have your child undergo the check-up at the designated location. Preparations required before enrolling will be explained by each school.
A school enrollment notification will be mailed in January. If you do not get a notification, please contact the Education Promotion Section of the Sapporo Board of Education (TEL: 011-211-3851).
School transfer procedures
For a school transfer, you must submit an Address Change Notification at the ward office and undertake the necessary procedures. If you would like to enroll your child in a school without filing for residence status, please contact the Board of Education.
School Expense Assistance System
The City of Sapporo offers assistance for school expenses, such as those for school supplies, school lunch and fieldtrips, for families with elementary and junior high school students (including secondary school) whose income is below a certain amount.
MANABEI(Sapporo Study Support Program)
This after-school study support program is for Junior high school students of the households receiving School Expenses Assistance or Welfare Assistance.
The classrooms are set in each ward and the Study Supporters (mostly university students) help their study so that they can build learning habits and also hoping the classrooms become like their second home.
【Venue】40 venues in 10 wards (Please inquire where the venue is) ※There are weekday venues and Saturday venues.
【Implementation day】Once a week, in principle for each venue  (Weekdays:18:15~20:15、Saturdays:10:00~12:00)
【Fee】 Free
【Content】Study Supporters support their study in a small group. Also, provide consultation service regarding life and education from students as well as parents
Study assistance for children learning Japanese
The City of Sapporo dispatches instructors to schools to help returnee and foreign students with Japanese language studies and adaptation to school life. Contact your child's school for details.
Dispatch of instructors
Instructors are dispatched to help provide Japanese language instruction for returnee and foreign students at municipal elementary, junior high, secondary, and high schools.
Study Support for Children with International Background
SICPF is offering study support sessions for elementary school and junior high school students who are non-Japanese or have international background.
Please bring your homework or study materials that you want to work on.
Monthly Study Support

NEW
Study support sessions at SICPF held on every 4th Saturday.
Summer Break Study Support
During the school's summer break and winter break, study support sessions are held on three consecutive days as follows.
High schools and secondary schools
High schools
More than 90% of junior high school graduates go on to study at senior high school. To enter high school, applicants are required to pass the entrance examination held by each school. Those who graduate from junior high school in Japan (including those who are expected to graduate) and those who are certified as having received an equivalent level of school education are eligible to take the examination.
Secondary schools
Secondary schools are six-year schools joining the grades of junior high and high schools in one facility. There is one municipal secondary school in Sapporo (Sapporo Kaisei Secondary School). It is necessary to pass a student screening to enroll in secondary schools. Sapporo Kaisei Secondary School offers International Baccalaureate (IB) educational programs.
Scholarships
Universities, junior colleges, and professional training colleges
Those who have graduated from high school are eligible to take exams to enroll in higher education institutions, such as colleges, universities and professional training colleges. Those who have graduated from accredited international schools in Japan and those who have obtained International Baccalaureate or other specified certificates are also qualified to take such exams.
Scholarships
There are two types of scholarship in Japan: a grant type, whereby you do not need to pay it back, and a loan type, whereby you have to repay it after graduation (some loan-type scholarships are interest-free while others are not). You should therefore exercise caution when you apply for scholarships.
International students
International students who wish to study at college/university in Japan must take exams, such as the Examination for Japanese University Admission for International Students (EJU). The types of exams they must pass differ by institution.
For information on studying Japanese in Sapporo, visit the Japanese language page.
International schools
Hokkaido International School
Hokkaido International School provides education for non-Japanese students who find attending Japanese schools difficult due to language problems. The school offers education for levels from kindergarten through high school. All classes are taught in English.
Hokkaido Korean Primary, Middle and High School
Hokkaido Korean Primary, Middle and High School offers education for Korean residents in Japan. In addition to subjects similar to those taught in Japanese elementary/junior high/senior high schools, students learn Korean language and ethnic culture.
Night junior high school(Sapporo Seiyukan Junior High School )
Evening classes at public junior high school are intended for those who have not graduated from junior high school for any reason, including truancy, either in Japan or in their home country.
In April 2022, Sapporo Seiyukan Junior High School, the first public night junior high school in Hokkaido has opened.