Consultation and Interpretation Services
COVID-19 vaccination
Other language support will be provided via telephone interpretation.
そのほかの 言語は、電話 通訳が あります。
​Tel​:​​​​​011-211-3678
Information about COVID-19 Vaccination in the City of Sapporo (Updated: 9/6)
"Reiwa 5 Autum COVID-19 Vaccination" are administrated as follows. The vaccination coupons have sent to the eligible persons after September 11, 2023.
Eligibility: Those who have finished 1st and 2nd vaccination
※Young children aged between 6months and 4 years old have to finished 3rd vaccination.
The date starts the vaccination: September 20 (Wed.), 2023
Fee: Free
Type of Vaccine: Omicron-adapted XBB.1.5 Monovalent Vaccine
(Vaccine developed adapting to the latest epidemic strain)
The vaccination coupons will be sent to those who have used all the coupons after September 11. If you have a unused coupon, you can also use it.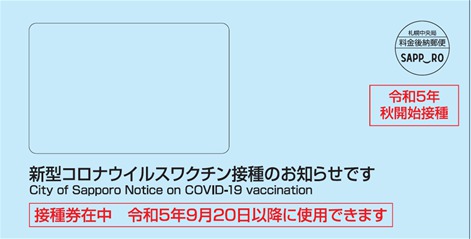 Envelope
Where to consult regarding COVID-19 Vaccination
Sapporo COVID-19 Vaccination Inquiry Center

TEL: 011-351-8646
【Hours:9:00-18:00 (every day including Saturdays, Sundays and national holidays except Dec.29 to Jan. 3)】

※To prevent the spread of the virus, there is no office provided.

※Languages:Japanese, English, Chinese, Korean
Sapporo City Webiste

Ministry of Health, Labour and Welfare COVID-19 Vaccination Call Center

TEL:0120-761770(toll free)
【Hours:9:00-21:00 (every day including Saturdays, Sundays and national holidays)】

・Japanese, English, Chines, Korean, Portuguese, and Spanish:9:00-21:00

・Thai :9:00-18:00

・Vietnamese :10:00-19:00
Ministry of Health, Labour and Welfare
When you became COVID-19 positive
From May 8th 2023, the legal status of COVID-19 has been downgraded in the same group as seasonal influenza and the things changed as follows;
[When you become COVID-19 positive]
●No self-quarantine necessary (including close-contact person)
・However, it is recommended to refrain from going out until 5 days pass from the date of symptom occurrence and 24 hours after the symptoms subsided.
・It is recommended to keep wearing a non-woven mask at least for 10 days after symptom occurrence, and also to wear it when you meet people at risk of severe diseases such as the elderly.
●You can go to any medical institutions as long as they are ready to accept patients. No need to be "fever clinics" or designated hospitals, however please contact the institutions in advance.
●The medical fees are no longer free including the fee for testing , outpatient care, and hospitalization (There is some treatment that the government support continues.)
●No need to register as "positive patient" to the public health office
・The health monitoring by the public health office, service of sending life support supplies, free rental of pulse oximeters, and issuance of the certificate of recovery all ended on May 7th.
●Free Antigen Test Kits distribution at pharmacies or public health centers ended on May 7th.
Where to consult (e.g. when symptoms get worse, cannot find a hospital, etc.)
Sapporo COVID-19 Health Consultation Dial

TEL: 011-350-5877
【Hours:9:00-18:00 (every day including Saturdays, Sundays and national holidays)】

Languages:Japanese, English, Chinese, Korean